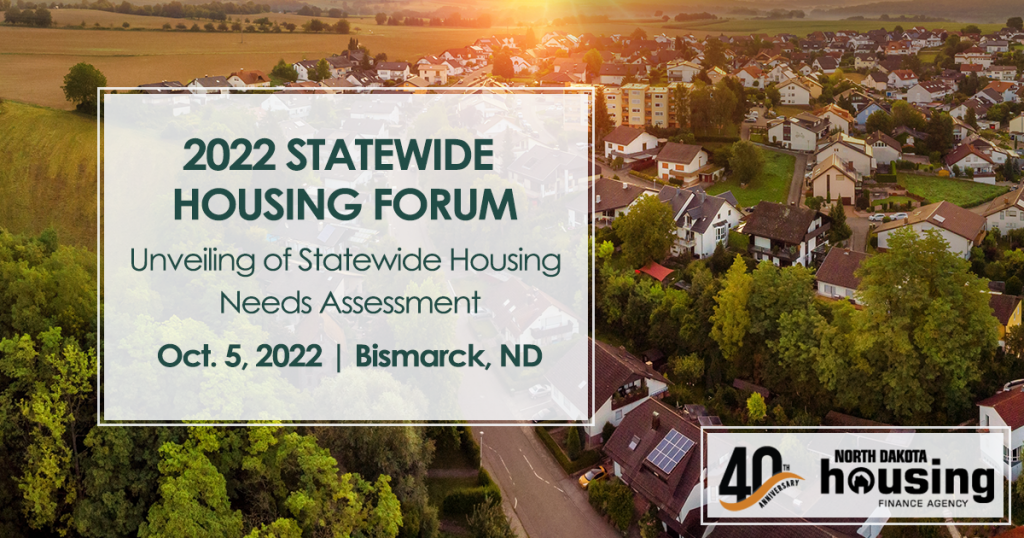 BISMARCK, ND – North Dakota Housing Finance Agency (NDHFA) will host an overview of the 2020-2025 Statewide Housing Needs Assessment this fall at a Statewide Housing Forum.
"The Assessment will provide an overview of North Dakota's current housing conditions and important trends that impact the state's housing dynamics," said Dave Flohr, NDHFA executive director. The state agency is charged with providing North Dakotans with affordable housing.
The housing forum will be held on Wednesday, Oct. 5, 2022, in Bismarck, ND. The face-to-face event is targeted to housing industry professionals including appraisers, brokers, builders, developers, investors and service providers, economic development experts, and local and state government leaders.
Following the assessment overview, a range of experts, insiders and government officials will provide their perspective on the housing trends and policy solutions to make single and multifamily housing more accessible. Stakeholder sessions to discuss legislative action and other initiatives will round out the forum.
To learn more about the event, visit NDHFA's website, www.ndhfa.org, or call 800-292-8621, 701-328-8080 or 711 (TTY).
Conducted by the North Dakota State University's Center for Social Research, the assessment consists of several components – a statewide population and housing forecast, regional profiles and detailed tables broken down by various levels of geography including the state as a whole, the eight planning regions, 53 counties, 12 major cities and four Native American Indian Reservations.
The forecasts of future housing needs are based on population projections through 2025 and the ratio of the historic distributions of householders and other householder characteristics to total population. The forecasts are based on the change in number and characteristics of householders and are reported by age, household income, and homebuyer type to provide further context to future housing needs.
The North Dakota Industrial Commission, consisting of Governor Doug Burgum as chairman, Agriculture Commissioner Doug Goehring and Attorney General Drew H. Wrigley, oversees NDHFA.
The Center for Social Research is an applied social science research unit dedicated to providing a venue through which a wide variety of research activities are facilitated.