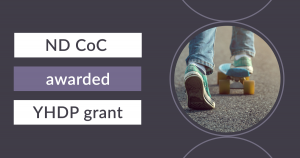 BISMARCK, ND – The North Dakota Continuum of Care (CoC) has been awarded a $1,975,377 Youth Homelessness Demonstration Program (YHDP) grant from the U.S. Department of Housing and Urban Development (HUD).
"The North Dakota Continuum of Care will lead a collaborative effort that brings together service providers to uncover and address the causes of homelessness among young adults in our state," said Dave Flohr, North Dakota Housing Finance Agency (NDHFA) executive director.
HUD awarded $142 million to 33 communities; North Dakota was one of the 11 rural communities selected. Youth with lived experience helped HUD with the assessment of the nearly 100 applications to ensure that the grant recipients understood the needs and preferences of the young people they will serve. Following HUD's funding announcement, the communities selected have six months to submit a coordinated community plan.
YHDP grant recipients can use funding for rapid rehousing, transitional and permanent supportive housing, and to fund innovative programs like host homes. The grant also supports the development of youth-focused performance measures and coordinated entry systems.
"The COVID-19 pandemic has exacerbated nearly every crisis in our society, including the crises of youth homelessness," said HUD Secretary Marcia L. Fudge. "Our society is judged by how we treat the most vulnerable among us. We have a responsibility in our nation to care for all our children and with this funding, HUD is taking steps to make sure that every child under our care has a safe place to call home."
North Dakota's CoC and the other grant recipients will participate in a program evaluation to inform the federal effort to prevent and end youth homelessness going forward. They will serve as leaders in the nation on the work to end homelessness among young people.
NDHFA is the Collaborative Applicant for the state's CoC, a communitywide commitment to the goal of ending homelessness. The program provides funding to support efforts to end homelessness, promotes access to and for effective utilization of programs, and optimizes the self-sufficiency of individuals and families experiencing homelessness. More information on the CoC is available online at ndcontinuumofcare.org.
NDHFA is a self-supporting and mission-driven state agency dedicated to making housing affordable for all North Dakotans. The North Dakota Industrial Commission, consisting of Governor Doug Burgum as chairman, Agriculture Commissioner Doug Goehring and Attorney General Wayne Stenehjem, oversees the agency.