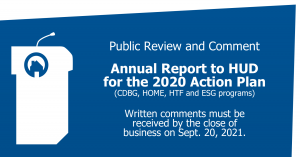 North Dakota's Dept. of Commerce, Division of Community Services and Housing Finance Agency are seeking input on an Annual Report to the U.S. Dept. of Housing and Urban Development (HUD) for the 2020 Action Plan.
The Plan served as the state's grant application to HUD for the Community Development Block Grant, HOME Investment Partnerships, Emergency Solutions Grant, and National Housing Trust Fund programs. The Annual Report provides information on the various activities funded by these programs from July 1, 2020, through June 30, 2021, and describes how these activities addressed the goals and objectives of the state's 2020-2024 Consolidated Plan. In addition, the Report identifies the number and types of households that benefited from these programs during the 2020 program year.
The Report will be available online by Sept. 4, 2021,  www.communityservices.nd.gov/communitydevelopment/ConsolidatedPlan/. Written comments must be submitted to Shawn Kessel, dcs@nd.gov, by 5:00 p.m., CT, on Sept. 20, 2021. Questions or requests for accommodations, 701-328-5300, 800-366-6889 (TTY) or 800-435-8590 (Spanish).