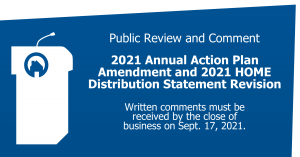 North Dakota Housing Finance Agency (NDHFA) is seeking input on an amendment to the 2021 Annual Action Plan and a revision of the 2021 HOME Investment Partnerships Program (HOME) Distribution Statement. The purpose is to allocate 2016-2020 HOME project funds for multifamily rental production and rehabilitation. Under the amendment, the available funds will be increased to $5,526,962 of which $1,350,859 will be set-aside for CHDO multifamily rental production and rehabilitation applications.
NDHFA will make the funds available during the application round that is currently open. Interested parties should refer to the 2021 HOME Program Distribution Statement for the application process and eligibility.
The Public Notice, Proposed Amendment and Distribution Statement Amended Draft are on NDHFA's website, www.ndhfa.org. Written comments must be submitted to Jennifer Henderson, hfainfo@nd.gov, by 5:00 p.m., CT, on Sept. 17, 2021. Questions or requests for accommodations, 800-292-8621, 800-366-6889 (TTY) or 800-435-8590 (Spanish).