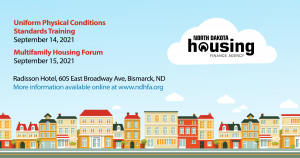 BISMARCK, ND – North Dakota Housing Finance Agency (NDHFA) will host a Multifamily Housing Forum on Sept. 15, 2021, at the Radisson Hotel in Bismarck, ND. The event will be preceded by a Uniform Physical Conditions Standards (UPCS) training for the agency's property management partners.
"The Multifamily Housing Forum is a one-day, face-to-face educational and networking event intended to offer the property owners and managers, developers and service providers who partner with NDHFA to provide safe, decent and affordable rental housing with an opportunity to discuss the challenges associated with operating in our rural state and learn about the solutions available," said Dave Flohr, NDHFA executive director.
The interactive UPCS training session, scheduled for Sept. 14th, will be led by Ken Pilbin. As the founder of US Inspection Group, Pilbin brings a lifetime of valuable prior experience in working with large and small corporations. Now, with more than 20 years of experience in the Real Estate Assessment Center (REAC) protocols, he has trained thousands of people across the country in REAC inspection preparation strategies.
The Forum opens with an introduction to the F5 Project's Housing Certificate. Rethinking the landlord-tenant relationship has been a key driver of success for F5, a non-profit founded by Adam Martin that focuses on helping inmates or people with criminal backgrounds find housing, jobs and resources.
Ten years ago, Martin was jobless, carless, and just getting out of his latest stint in prison when he decided to apply for a sales job at a local technology company. It wound up not only becoming the impetus for him turning his own life around, but it allowed him to launch an organization that's now helping other convicted felons do the same.
A series of breakout sessions rounds out the Forum's agenda including presentations on bed bug control, structuring multifamily tax-exempt financing, assistance for renters who are struggling, Section 3 compliance requirements, an update on the state's 1915(i) Medicaid amendment, personal safety and security training, and a discussion of data trends in NDHFA's vacancy reporting.
Register by Sept. 3, 2021 to receive the lowest rates, $150 and $50 respectively. After Sept. 3rd, the registration fees will increase to $200 and $75. The UPCS training registration is capped at 80.  Forum registration closes on Sept. 10th.
The ND Board of Social Work Examiners has approved Forum attendance for up to four hours of continuing education credit. Housing Development Finance Professionals and Housing Credit Certified Professionals may submit proof of attendance toward recertifications. More details are provided online.
To register or learn more about the UPCS training or the Multifamily Forum, see NDHFA's website, www.ndhfa.org.
NDHFA is a self-supporting state agency dedicated to making housing affordable for all North Dakotans. The Industrial Commission of North Dakota, consisting of Gov. Doug Burgum, as the chairman, Attorney General Wayne Stenehjem and Agriculture Commissioner Doug Goehring, oversees the agency.