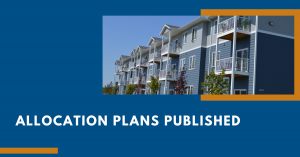 BISMARCK, ND – The Housing Finance Agency recently published the plans that will guide its administration of the federal Low Income Housing Tax Credit (LIHTC) and National Housing Trust Fund (HTF) programs this year. The agency reviews the plans annually to ensure they address the state's most current housing needs.
"The development programs overseen by North Dakota Housing Finance Agency help to ensure our vulnerable populations have access to housing that is safe, secure and affordable," said Dave Flohr, NDHFA executive director. The programs support the construction or renovation of housing for low-wage workers, elderly and disabled households, and individuals and families at-risk of homelessness.
LIHTC encourages private sector investment in affordable housing through tax incentives. Property owners receive the credits for up to 10 years based on capital investment and level of commitment to low-income tenancy. The HTF's purpose is to increase and preserve the supply of housing for extremely low-income households.
The application process for the programs NDHFA oversees is competitive. Applicants must provide evidence that there is a need for the proposed housing, construction costs are reasonable, and that development of the housing project would not be financially feasible without the program's support. Applications for 9% tax credits and trust fund assistance will be due on Sept. 30th.  Applications for 4% credits can be submitted at any time, pending the availability of bond cap authority.
More information on the development assistance provided by NDHFA is available online at http://www.ndhfa.org or by contacting the agency's planning and housing development division at (800) 292-8621 or hfainfo@nd.gov.
NDHFA is a self-supporting state agency dedicated to making housing affordable for all North Dakotans. The Industrial Commission of North Dakota, consisting of Gov. Doug Burgum, as the chairman, Attorney General Wayne Stenehjem and Agriculture Commissioner Doug Goehring, oversees the agency.