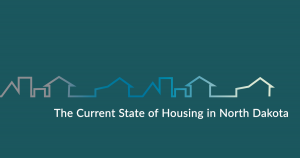 BISMARCK, ND – North Dakota Housing Finance Agency (NDHFA) has released "The Current State of Housing in North Dakota," a study of the affordability of the state's single and multifamily housing, the impacts of COVID-19, and housing challenges faced by vulnerable populations in 2020.
Over 60 percent of North Dakotans live in owner-occupied housing and, in recent years, have benefited from an above average increase in their median household value.
"More than half of existing homes on the market in North Dakota had a sale price above $300,000 in September, and the cost of construction materials, labor, land and utilities restricts the ability to list a home for less than $250,000, making it difficult for new households, particularly first time buyers, to enter the market," said NDHFA Executive Director Dave Flohr.
The average cost per square foot for basic construction in 2018 was $118.05 and did not include land or site improvements, plans, permits, etc. A home is affordable when 30 percent or less of a household's earned income is spent on its housing expenses. Households that put more than 30 percent towards housing are considered to be cost burdened.
While an American Community Survey estimated that 14 percent of North Dakota's homeowners paid more than 30 percent of their income for housing expenses in 2018, the state's renters are believed to be substantially more cost burdened with 39 percent spending more than 30 percent of their income on housing.
"A large segment of North Dakota's renter population works in Accommodations and Food Services industries, the state's lowest wage occupations," said Flohr. "If a household earns minimum wage, they have to work 89 hours per week to rent what is considered to be an affordable apartment."
The Fair Market Rent, as published by the U.S. Department of Housing and Urban Development, for a two-bedroom apartment in North Dakota is $841. To afford this level of rent and utilities without being cost burdened, a household must earn $2,804 a month. It is estimated that the state has a shortage of 13,000 affordable rental units for extremely low-income households.
Before the pandemic, 1 in 10 North Dakotans were living below the poverty level. Socioeconomic and environmental factors such as poverty, housing instability, food insecurity and lack of access to healthcare, medical insurance and transportation further compound the livelihood and well-being of households living in poverty during the pandemic according to the Centers for Disease Control and Prevention.
"We know that having a place to call home can be transformative for a household, and there are hard to house individuals in our state who face challenges beyond affordability that keeps them from finding a home," said Flohr. "COVID-19 has exacerbated the housing issues faced by low-income households and vulnerable populations."
The data for NDHFA's study was gathered from state, federal, academic and association sources to provide an unbiased report of North Dakota's current housing landscape.
A self-supporting state agency, NDHFA is dedicated to making housing affordable for all North Dakotans. The North Dakota Industrial Commission, consisting of Governor Doug Burgum as chairman, Attorney General Wayne Stenehjem and Agriculture Commissioner Doug Goehring, oversees the agency.