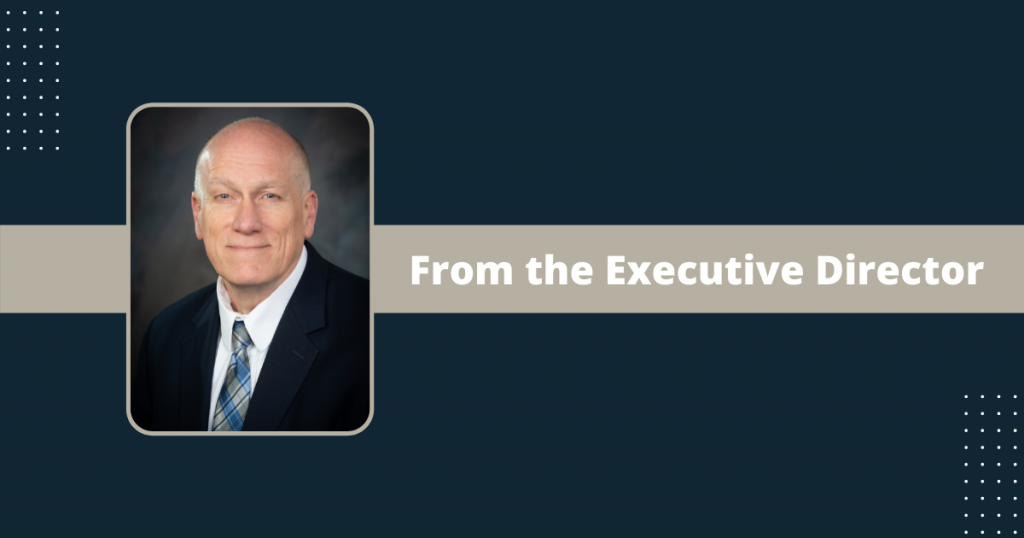 Throughout the year, North Dakota Housing Finance Agency (NDHFA) has celebrated our 40th Anniversary. Milestones like major anniversaries are the perfect opportunity to reflect on what we have accomplished and remember all the team members that played a role in shaping our agency.
Today, Nov. 2, is also major milestone for a woman who has been with NDHFA since day one and has been instrumental in guiding the agency. Karlene Fine, executive director and secretary of the North Dakota Industrial Commission is retiring after 48 years with the Commission and a total of 52 years with the State of North Dakota. NDHFA is overseen by the Commission.
A Resolution of Appreciation for Karlene's years of service notes that throughout her career, she exemplified the principles of integrity, respect, dedication, and an unparalleled, never-to-be-matched work ethic. NDHFA echoes that statement. She was a foundational pillar through the transition of four NDHFA executive directors, always providing steady guidance and institutional knowledge.
This 2023 Legislative Session will be different without Karlene at the podium representing all the agencies under the Commission. The change will bring a lot of new faces to the hallways and in the committee rooms as she won't be an easy person to replace. Even though she is leaving us, the wheel of government continues to turn. Preparations are well underway for the upcoming session where NDHFA will be asking for more budgeting authority, more staff positions, and the flexibility to reinvest agency profits into programs directed to specific housing needs.
The need for additional programming and funds for single and multifamily housing was detailed in the 2020-2025 Statewide Housing Needs Assessment, authored by North Dakota State University Center for Social Research. Looking at past trends and future forecasts, the state's population is wealthier, younger and more racially diverse; however, more resources are needed to address limited housing options, affordability and aging stock.
The key goal of the assessment is to provide insights into the state's expected housing requirements as determined by recent trends and current conditions on a wide range of demographic, economic and housing indicators. It forecasts North Dakota's housing and population projections from 2020-2025.
Barring any major shifts in the economy that might alter migration patterns, the assessment projects the state's population will increase by 1.3% or about 10,000 people by 2025. Based on this estimate, the state would need to add an additional 9,285 housing units by 2025, a 3% increase from 2020.
While the state's robust and diverse economies have increased per household wealth, we cannot ignore the challenges that some North Dakotans are experiencing in relation to increased housing costs. Disparities exist for some racial groups, lower-income households and vulnerable populations that cannot be ignored. The assessment is a tool for state and local leadership to be able to understand the magnitude of the barriers residents face when accessing housing.
NDHFA uses the assessment to validate existing agency-funded programs that address housing rehab and ensures housing stability for North Dakotan citizens. Since 2010, gross rental rates grew by 49%, more than twice the rate of inflation. Homebuyers watched housing prices increase 51% from 2010 to 2020 and jumped another 8% in 2021. Rising mortgage interest rates further impacted affordability. Lingering supply chain and workforce issues have delayed construction for single and multifamily housing and driven up costs in both urban and rural areas. Because new houses cannot be built fast enough to meet demand and new construction isn't affordable for every household, NDHFA is committed to creating solutions and funding programs to preserve existing housing stock.
The assessment consists of several components – a statewide population and housing forecast, regional profiles and detailed tables broken down by various levels of geography including the state as a whole, the eight planning regions, 53 counties, 12 major cities and four Native American Reservations.
We certainly understand that may not have the time to dig into the full assessment. Therefore, a condensed version is available, that highlights population and housing characteristics and housing barriers.