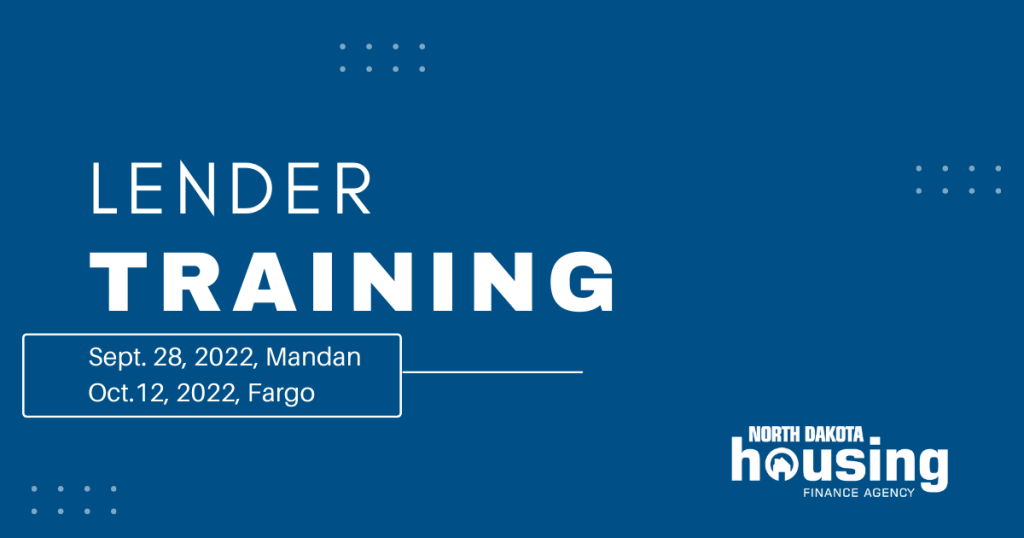 North Dakota Housing Finance Agency (NDHFA) will host Participating Lender training in two locations this fall.
"North Dakota Housing Finance Agency's training provides mortgage lenders who are new to our programs with an introduction to the assistance we provide to first-time buyers and an overview of how the agency helps households who don't qualify for our standard program," said Brandon Dettlaff, homeownership division director.
Through FirstHome™, NDHFA offers the low-cost financing and down payment and closing cost assistance many households require to successfully become homeowners. Single parents with at least one dependent child residing in the home 50 percent of the time, households with elderly or permanently disabled family members, and honorably discharged veterans can receive similar help through NDHFA's HomeAccess program.
While FirstHome and HomeAccess have income limits that vary depending on family size and the location of the home purchased, the agency's expanded North Dakota Roots program can now be used to finance mortgage loans for higher-income households and to refinance residential real estate loans.
"Lenders have been very complimentary of our updated North Dakota Roots program," said Dettlaff. "They find it easy to use and are happy to be able to keep the loans local as well."
During the most recent legislative session, NDHFA was provided with the same lending authority as Bank of North Dakota. In response, the agency updated North Dakota Roots, removing the cap on borrower income limits and allowing the refinancing of residential loans.
The first face-to-face training session is Sept. 28 at First Community Credit Union, 4614 Memorial Highway, Mandan, ND. Note that attendees are asked to park on the north end of the lot to keep the spaces next to the credit union open for their customers. A second training, on Oct. 12, is at the Dakota Medical Foundation, 4141 29th Ave S, Fargo, ND. The training hours for both events are 9:00-11:30 a.m.
The target audience is the new staff of NDHFA's participating lenders, financial institutions that originate loans on the agency's behalf. If space is available, other participating lender staff interested in a refresher course and lenders considering offering NDHFA's programs are welcome to attend.
While there are no registration fees, pre-registration is required, and class size is limited to 30 people. More information is available on the Resources for Lenders page on NDHFA's website, www.ndhfa.org.
Lender questions regarding NDHFA's homeownership programs or training can be directed to the acquisition staff at (800) 292-8621 or hfaacquisition@nd.gov. Lenders who are unable to attend the live training are encouraged to check out the on-demand training the agency offers through EdApp.